What Do You Need to Know About Ohio's Fall Foliage Peak Season?
Summer is a beautiful time of year, but what about fall? After all, there's nothing more magical than witnessing the leaves changing colors and the rolling hills of Central Ohio adorning beautiful shades of gold, brown, and red. Get a front-row seat for that natural phenomenon this year by planning a lovely fall getaway with us! In this blog, we'll tell you all you need to know about Ohio's fall foliage peak season so you can plan the best vacation.
If you want to learn more about the area and find the best attractions, download our free Vacation Guide! This great planning tool features some of our favorite local restaurants, museums, events, shops, outdoor activities, and more. 
Make the Most of the Ohio Fall Foliage Peak Season
When Is the Fall Foliage Peak Season in Ohio?
Fall Foliage Peak Season in Central Ohio usually happens around the third week of October, with leaves starting to change colors at the beginning of the month. Fall is a wonderful season here—the weather is absolutely perfect. Imagine sunny, bright days and cozy crisp nights. There's really nothing better than enjoying the beautiful, chilly weather, so make sure you're prepared to do that. Make sure you pack T-shirts, pants, hiking boots, and, of course, layers! We also recommend a plaid jacket or cardigans snuggling up by the fire. Did you know that HideAway Country Inn has a fire pit? You can grill s'mores there with your loved ones under the stars!
What Can You Do in Ohio in the Fall?
Fall is so wonderful that you'll want to make the most of it while you're visiting us. Picture yourself driving through auburn forests, drinking pumpkin-spiced coffee, tasting local wines, and having fun at some local fall events. Here are some of our other favorite things to do during the season:
Explore a Bike Trail
Crisp autumn air and the changing leaves make fall in Ohio one of the best times of the year. How about exploring nature's beauty on two wheels? The Ohio bike trail takes you through paths lined with vibrantly colored trees. It's the perfect activity to help you let go of your worries and enjoy nature!
Tour a Local Vineyard
Did you know that September is a traditional harvest month for vineyards? Well, there's no better time to visit a winery! Fortunately, Ohio is home to some incredible wineries and vineyards. Spend a romantic day strolling through breezy vineyards and sampling world-class wine. Meanwhile, enjoy the incredible colors of fall!
Visit a State Park
Cool weather and crunchy leaves fill the Ohio countryside during fall. These factors create the perfect conditions for an invigorating stroll outside. Head over to a state park and spend the day in nature! You can wander through endless trails, glide across shimmering lakes on a kayak, or pack a picnic (and a blanket) for a perfect lazy afternoon.
Enjoy a Fall Festival or Spooky Haunted House
Fall in Ohio is the season for some of the best festivals. We particularly love the ECO Center's Fall Festival. It features a pumpkin patch, s'more roasting over the firepit, barrel train rides, and more. Fall also means Halloween. Visit a local haunted house—if you dare! We highly recommend the Mansfield Reformatory Ghost Walk. Try to escape this Ohio haunted prison and face your worst nightmares! We highly recommend getting "lightning passes" to skip the lines; it's worth the extra cost.
Stay in the Most Beautiful B&B in Central Ohio!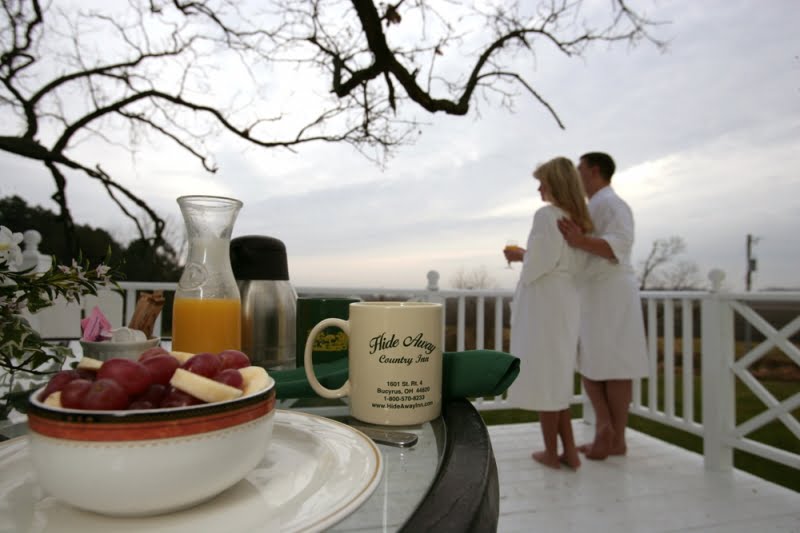 Make HideAway Country Inn your fall retreat this season. It's the perfect place for you and your loved ones to come together and make memories! Our beautiful inn is located in Bucyrus and offers elegant amenities and accommodations surrounded by nature. Get ready to wake up to stunning countryside views and the fabulous fall colors you've been dreaming of all summer long. 
Take a look at our Eagles Nest Luxury Suite, for example. You'll love spending time there and making it your home for a few days. Enjoy a hot cup of tea in the first-floor living area by the fireplace. Or, curl up with a good book! Take a dip in the whirlpool tub to relax your muscles and let the bubbles melt away your stress. After dreaming the night away, you'll love waking up to a delicious, homemade breakfast! It's so good that you'll wish it were morning all day long.
Share This Story, Choose Your Platform!