A Casual, Fine Dining Restaurant in Bucyrus, Ohio
Visit Hideaway Inn, winner of the Wine Spectator's Award of Excellence
Breakfast served daily to Guests – 10: 00 am in the Main Manor House dining room, unless you have breakfast ordered to be delivered to your suite.
Casual Attire with Fine Dining Quality Food awaits you in the beautiful manor house at HideAway Country Inn. Dining is a comfortable, but elegant, dining Bucyrus, Ohio restaurant. With comfy, plush chairs, and a wood-burning fireplace, you'll feel right at home at our restaurant. The huge bay window looks out onto the kitchen gardens and the serene country setting.
Fresh herbs, local ingredients, and organic vegetables from Amish produce auctions are used in our delicious cuisine. Please fill out the dietary restriction on your reservation for food allergies or dislikes to make your dining experience more memorable and NEVER too much trouble. Our chef takes extra care in selecting ingredients to make your meal the best experience possible. The Hideaway Inn has a luxurious and comfortable atmosphere you've been asking for. Our Bucyrus, Ohio restaurant is the perfect place for your next date night or family dinner.
Please enjoy the Picnic Tables scattered on 3 acres and secluded areas on the property. Admire the Panoramic non-obstructed views of the Sunset. Best Sunset ( We think) in OHIO.
1938 Restaurant & Pub
Experience farm-to-table, made from scratch entrees served in casual elegance.
Bar Area
Our Bar area hosts the semi-private dining rooms to serve the 3-course dinners. There is not a bartender onsite, however, you can order wine, beer, & cocktails during your stay.
Ask the Chef
Read comments and questions of inquisitive foodies or curious diners.
Quality wines, craft beer and hand shaken cocktails enhance your dining experience. You are welcome to sit back relax and enjoy a slow meal designed to enhance your dining experience. No hurried – pushy -hurry-you-it-up-rush-rush dining. Enjoy conversation with your long lost friends, husband or best friends.
In addition to offering wonderful meals to delight your palate, HideAway Country Inn provides cooking classes. You can learn how to make some of your favorite dishes at home.
Craft Beer
Pairing isn't just for wine. Enjoy seasonal meals coupled with the perfect beer.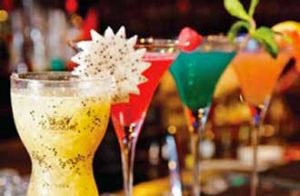 Unique Beverages
Get in the proper spirit with seasonal cocktails that are sure to bring a smile to your face.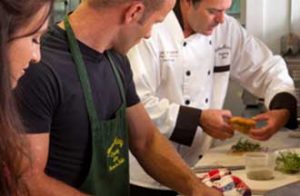 Cooking Classes
Impress loved ones with culinary masterpieces thru a trained chef's hands-on instruction.
Furthermore, the historic inn offers a wine tasting class and wine education class at various times for those who want to learn more about the wonderfulness of 'vino'. Take time to explore the links below that highlight the culinary arts you'll find at HideAway Country Inn.
You'll even find that with advanced notice we're happy to prepare dishes around your needs – allergen free, gluten free / non celiac foods, diabetic diets and low sodium. Whatever you want our chef can create masterpiece meals using organic produce that locally sourced or straight from our own kitchen garden. Enjoy our chef's passion for great, farm-to-table ingredients that are lovingly prepared for a delicious dining experience.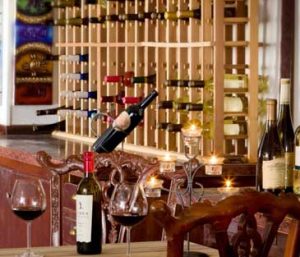 Wine Cellar
Climate controlled Award Of Excellence wine cellar with over 190 varietals to enjoy.
Wine Tasting Education
Learn to select wines you and your guests will enjoy thanks to a trained Sommelier.