All You Need to Know About Our Favorite Northwest Ohio Fall Festivals
Are you planning a fall trip to Central Ohio? That's a prime time for some of the best festivals in the state! There's something about autumn that makes everything look so magical, between the leaves changing colors, the crisp breeze, and the juicy apples blossoming in the trees! Make your trip even more fun by attending some of our favorite local Northwest Ohio Fall Festivals. We think you'll make unforgettable memories with the ones you love!
Marion Popcorn Festival
When: Beginning of September
Marion is less than 30 minutes away from our lovely inn and offers one of the biggest fall festivals in Central Ohio! The Popcorn Festival is a tradition beloved by locals and visitors alike. It's the largest popcorn festival in the world, with more than 250,000 attendees every year! Partake in games, watch parades, browse arts and crafts booths, and, of course, treat yourself to some delicious popcorn!
ECO Center's Fall Festival
When: Beginning of October
The family-friendly ECO Center's Fall Festival takes place during the gorgeous foliage peak time in Caledonia. You can enjoy your favorite fall activities like pumpkin picking, s'more roasting, and even barrel train riding. You can also interact with farm animals like goats and rabbits, attend naturalist-led lessons, or even go on a scavenger hunt through the woods!
Bucyrus Bratwurst Festival
When: August
Now, this one might not technically be in the fall, but we can't think of a more autumn-like event! The Bucyrus Bratwurst Festival has all you need to spend a fun day: Delicious grilled bratwursts, cold beer, and a wide variety of fun contests! Some of our favorites include the beard and mustache contest, the pigtail contest, and the cheer competition! Other activities include pageants, arts and crafts markets, and even a 5K if you're feeling up to the challenge!
Tiffin-Seneca Heritage Festival
When: September
Ohio is full of unique and fun festivals, and the Tiffin-Seneca Heritage Festival certainly makes the list! This year's festival includes amusement rides, live music all weekend, ethnic food wagons, unique arts and crafts for sale, and a children's area where they experience hands-on activities related to the heritage of our country. It is held in downtown Tiffin and Hedges-Boyer Park between Summit and Coe Street. Tiffin, Ohio, is located approximately 35 minutes from the HideAway Country Inn.
The Perfect Place to Stay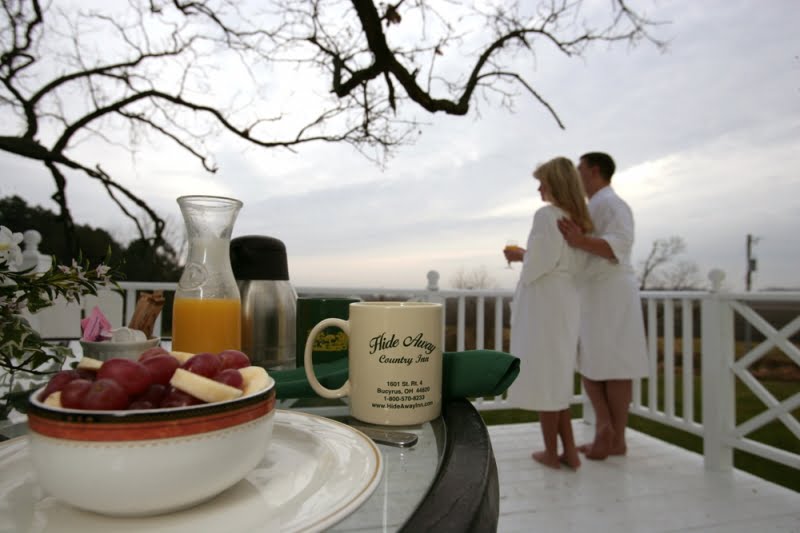 HideAway Country Inn is the perfect oasis of peace and tranquility. After having fun at one (or a few) of these events, come back to our beautiful inn and relax like never before. You're going to fall in love with our location —is there anything better than waking up to the soothing sounds of the country? If you're a city dweller, then HideAway is the perfect escape you've been seeking.
For a truly memorable experience, we recommend booking our Garden Manor House Room. With a private bath, extremely comfortable cherry poster bed, and spectacular sunset views from the private deck, this is one of our most frequently requested rooms. After sleeping like a baby all night, join us for breakfast! It's the most important meal of the day, and we make one of the best in the area.
Share This Story, Choose Your Platform!