Your Guide to the Best Antiquing in Ohio
Out with the old and in with the new — or would you have it the other way around? If you love vintage trends and live to discover unique antique shops, then you're in for a treat. Central Ohio is home to various fabulous stores where you can find gems and historical artifacts. In this blog, we'll be telling you about some of our favorite stores you need to check out. Read on, take notes, and get ready to go antiquing in Ohio!
Do you want to find more fun things to do while visiting Central Ohio? Download our free Vacation Guide! It features our local recommendations for restaurants, events, museums, outdoor activities, and many more shops.
Where to Go for the Best Antiquing in Ohio
The Copper Horse Antiques
One of our favorite local antique stores near our inn in Bucyrus, OH, is The Copper Horse. This store is filled with treasures from the past and makes for a great shopping outing. You're sure to find fabulous items for your house of high quality for a good price!
Antiques on Main – Ashland
Antiques on Main is one of our favorite antique shops near Bucyrus. Not only does it offer a great selection of antiques and unique objects, but the building itself is part of Central Ohio's history. It was built in downtown Ashland in the 1870s. Take a step back in time as you browse the alleys and discover their treasures. Get lost in a wonderland of old and rare goodies, vintage clothing, furniture, accessories, and more!
Heritage Square Antique Mall – Columbus
If you happen to pass by Columbus during your trip to Central Ohio, you've got to stop by the Heritage Square Antique Mall. Don't be fooled by the exterior — it's much bigger than it seems to be! With its 53,000-square foot shop, it's considered Central Ohio's largest antique mall. The store is open seven days a week with extended weekend hours to give you more time to browse!
Blackberry Patch Antiques – Powell
Blackberry Patch Antiques is the perfect antique store for ladies in search of beautiful vintage clothing. The lady who owns it is one of the friendliest people and is very helpful to customers. If you're looking for something in particular, don't hesitate to ask her!
Eastman Antiques – Mt. Victory
Eastman Antiques is a real Ali Baba's cave. You'll feel as if you stepped back in time into a magical barn when you walk through the door. There are so many items to see that we recommend taking your time—you never know what treasure is waiting around the corner! This family-owned and operated antique shop is open Monday through Saturday from 10 a.m. to 5 p.m., and on Sundays from noon to 5 p.m.
Stay in the Heart of Central Ohio at HideAway Country Inn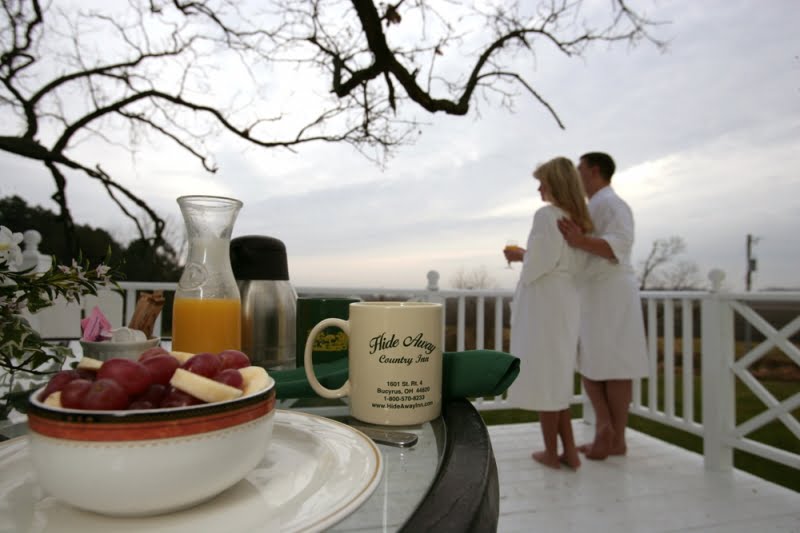 Your antiquing outing is a great opportunity for you to take the long-awaited trip you've been dreaming about for months. It's important to take a break every once in a while and treat yourself to a rejuvenating stay in the countryside. HideAway Country Inn offers all that and more!
You're going to love our serene countryside backdrop, our charming amenities, and lovely accommodations. We also offer a great selection of packages and specials to enhance your stay. No matter what you choose to do during your stay, we'll make sure you have the most relaxing time as you're pampered like royalty. We can hardly wait to meet you!
Share This Story, Choose Your Platform!