We Know the Best Weekend Getaway From Columbus, Ohio
Are you tired of your same old routine in the city? Do you sometimes wish you could unwind and escape for a weekend? Well, your dream has come true! Change your habits and drive away to the countryside for an exciting trip! Ohio has so much to offer historically, naturally, and culturally, but there's one weekend getaway from Columbus, Ohio, that surpasses them all! Discover why Bucyrus is a top-notch destination, and all the wonders it has to offer in this blog! Before you make any travel arrangements, make sure you download our free Vacation Guide! It features great local recommendations for restaurants, events, shops, outdoor activities, and more!
Why Bucyrus is the Best Destination for a Weekend Getaway From Columbus, Ohio
It's Less Than 2 Hours Away From Columbus
A great weekend getaway destination doesn't require a lot of traveling time. After all, you want to relax during your vacation and not add extra stress when it can be avoided! Luckily for you, our beautiful town of Bucyrus is less than two hours away from Columbus, which makes it the ideal road trip for a weekend. You can leave after work on a Friday and wake up ready to have fun on Saturday morning! The route from Columbus to Bucyrus can be done in an hour and 20 minutes depending on traffic, so why hesitate? Hop in your car and start driving to the heart of the state!
It Offers a Wide Variety of Activities
One thing is for sure when you visit the Bucyrus area during your weekend getaway, you won't get bored! Central Ohio has plenty of attractions to offer, and many gorgeous landscapes to roam and explore with the ones you love. Read on to find out which ones you prefer, make a list, and pack your backpacks!
Amish Attractions
History buffs can rejoice because Bucyrus and its surroundings boast many attractions and historical sights to visit. The Amish Country heritage is a big part of the culture in central Ohio, and you can immerse yourself in it for a weekend when you stay at HideAway! Shop for unique items at the Amish store The Peddler, take a peek at the Amish buggies and as you drive through the meadows, and taste some Amish flavors at Carl's Bratwurst!
You can also attend the popular Civil War Show happening in May during your weekend getaway! Learn more about this fabulous, and highly anticipated event and upcoming show dates so you can plan your trip accordingly!
Outdoor Adventures
Reconnect with Mother Nature in the gorgeous Ohio scenery! Picture yourself hiking through some of the most beautiful Northeast state parks, such as Mohican State Park or Findley State Park! Fish in the river, kayak down the streams, and even go on a romantic picnic in the forest. Sounds lovely, doesn't it? Well, in central Ohio, it's your reality! Imagine how much more reinvigorated you will be that next Monday at work! Make sure you bring the backpacker's essentials with you: comfortable hiking shoes, a jacket, water, and of course, your camera!
Wineries and Breweries
Do you wish to taste some of Ohio's best flavors? Visit a winery during your getaway! White Shutter Winery is open on Fridays from 5 to 9 p.m., and on Saturdays from 3 to 9 p.m. It's the ideal spot to relax for happy hour. Rest your muscles from all the hiking or sightseeing and enjoy a cool glass of wine outside! They also host a series of live concerts throughout the year, so don't hesitate to check their events page!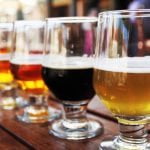 Do you prefer beer over wine? No problem! The Phoenix Brewing Company is the perfect fit for you. They offer original and seasonal brews that can satisfy any palate. Head over to their taproom and try a few of them. Some of our favorites include the Redemption IPA and the Melinoe blood-orange!
Your stomach should be growling after all these adventures! If you want to taste the best flavors in town, then grab a seat at 1938 Restaurant and Pub. It's right on our property, so no need to rush to get ready! Your room is a few steps away. Our award-winning menu offers gourmet entrees and appetizers, all made with fresh and locally produced ingredients. Book your table now by calling us at 419-562-3013.
You Can Stay in One of the Best B&Bs in Central Ohio!
A perfect weekend getaway wouldn't be complete without a cozy room in the countryside! Make your trip as authentic and delightful as can be, and stay at HideAway Country Inn! We're one of the most charming B&Bs in the whole state and offer all the relaxation and serenity you seek. Did we mention we're less than an hour and a half away from Columbus? No need to drive for hours to find the best of Ohio when you have it right down the road!
Our lovely accommodations are all finely decorated, and each offers a unique atmosphere, so you just need to pick your favorite! Take a look at our Napoleon Loft Suite, for example. It has all the attributes you and your significant other need to spend the most romantic weekend ever. Between the dark Victorian king bed, the French-style antiques, and the stunning Jacuzzi tub with cherry columns, you'll feel as if you traveled back through time as soon as you step in this room! Snuggle up by the gas fireplace at night with a glass of wine in hand, and fall asleep under the starlit night sky! Wake up the next morning to the wonderful smell of freshly brewed coffee, and join us in the Manor House where a delicious homemade breakfast awaits you.
Share This Story, Choose Your Platform!