Where Can You Find the Best Vineyards in Ohio?
Do you know that Ohio is full of high-quality wineries? Most people only think of Napa Valley when they think of American wine, but there is a wide range of top-notch vineyards minutes away from Bucyrus, OH! During your stay at HideAway Country Inn, explore some of our favorites and spend the day sipping on a glass of wine with your loved ones. Read on to discover the best vineyards in Ohio, and get ready to plan your stay with us! We also offer a free Vacation Guide to inspire you with our best recommendations. Discover local restaurants, events, shops, museums, outdoor adventures, and more!
Get Ready to Experience the Best Wine in Ohio At These 3 Vineyards!
White Shutter Winery
You're going to love this idyllic, grass-covered farm that's only 15 minutes away from HideAway Country Inn. White Shutter Winery is a stunning red brick, white-shuttered home (hence its name) and a beautiful place to spend an afternoon! Picture yourself roaming through the property, a glass of wine in hand, and forgetting all your worries! The winery offers a great selection of whites, reds, fruit-infused wines, beers, and more. White Shutter also hosts events throughout the year such as painting courses, arts and crafts markets, and more.
Shamrock Vineyards
Shamrock Vineyard is a bit further away from our inn—35 minutes away—and is the oldest vineyard in this part of Ohio. Shamrock Vineyard was first planted in 1971 and grows more than 25 different varieties of grapes. You can learn more about this process and, of course, taste the end result during your visit! The vineyard also hosts many local events, including painting nights, family flatbread pizza nights, wine tastings, and more.
Cypress Cellars
Last but not least, Cypress Cellars is located in Mansfield, OH, 30 minutes away from Bucyrus and HideAway. It's one of our favorite boutique wineries. This spot is perfect if you're on a romantic getaway with your special someone. Cypress Cellars produces about 800 cases of wine every year, most of which you can try in the tasting room. The winery is open Thursday through Saturday, from 4:00 p.m. until 10:00 p.m., so make sure you plan your visit accordingly. Before leaving, buy a bottle to bring home to your loved ones, or even better: Bring it back to HideAway Country Inn and enjoy it from the whirlpool tub in your suite!
Let the Bucyrus Countryside Rejuvenate Your Soul at HideAway Country Inn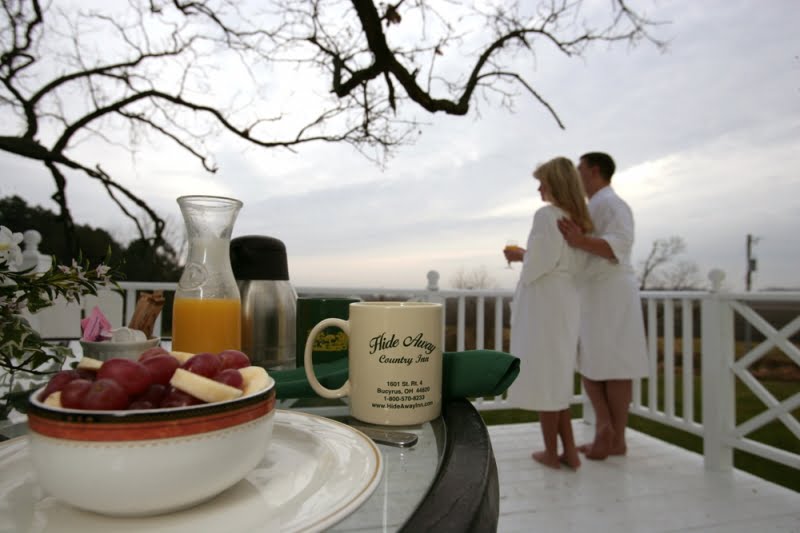 Are you dreaming of a relaxing stay in the countryside? If so, HideAway Country Inn is the perfect place for you. Our beautiful inn is located in Bucyrus and offers elegant amenities and accommodations surrounded by nature. There's no better place to return after your road trip to the different vineyards in Ohio.
Picture this: You're comfortably lodged in our spacious Eagles Nest Luxury Suite, enjoying a hot cup of tea in the first-floor living area by the fireplace. You bathe in the whirlpool tub and let the bubbles melt away your stress. The next morning, you're delighted to find a homemade breakfast waiting for you! It's the best way to start the day and give you energy to explore Central Ohio.
Share This Story, Choose Your Platform!