4 of the Best Things to Do in the Summer in Central Ohio
Are you looking for fun things to do this summer? Central Ohio is the perfect, relaxing destination if you wish to unwind and stay close to home. Our splendid inn is only a few hours away from major cities like Pittsburgh, Cleveland, or Columbus. Enjoy the tranquility of our property and have fun exploring the surrounding areas! In this blog, we'll tell you about our favorite things to do in the summer near Bucyrus, OH, so read on and get inspired! Download our free Vacation Guide to help you plan your visit. It has great recommendations for local restaurants, events, museums, shops, outdoor adventures, and more!
Enhance Your Summer With These 4 Things to Do in Central Ohio
Marvel at
Mid-Ohio Sports Cars
Are you a car lover or adrenaline junkie? Then you'll be delighted to know that our inn is located near one of the most exciting car courses in Ohio! The Mid-Ohio Sports Car Course hosts a variety of car-related events all year-long, including spring cars, races, and dragsters. This course has a long history of hosting world-class races, including the famous  WeatherTech® SportsCar Championship, a one-of-a-kind you have to attend at least once!
Hit the Green!
Why not practice your swing during your summer in Central Ohio? Bucyrus offers a fine selection of golf courses you'll love. The Golf Club of Bucyrus, for example, is a Par 72 golf course that stretches over 6,000 yards. It a challenge even to golf veterans but can be very pleasant to beginners as well. The New Winchester Golf Course offers nine holes of excellent golf. This course is open all year and has three sets of tees for different skill levels. Be aware that you can rent golf carts at New Winchester, but not clubs1 Remember to bring your own if you want to try this course.
Go Birding to Explore Nature
One of the greatest features of Central Ohio is its gorgeous nature, and what better season than summer to witness it? Head over to the Killdeer Plains Wildlife Area and see what we mean! This 9,230-acre area is in the heart of the farming country in Sandusky, OH, only 25 minutes away from HideAway Country Inn. Its landscape is comprised of farmland, prairie, grassland, and woods. It's a prime spot for birding in Ohio, so make sure you bring your binoculars!
Relax and Unwind
As fun as exploring can be, you also need to take care of yourself and unwind. How about a little spa treatment? HideAway Country Inn has its own in-house spa for you to enjoy during your stay. Treat yourself to a massage, facial, or mani-pedi, or all of the above! Don't hesitate to also browse through our specials and packages.
Here's Why HideAway Country Inn Is Your Summer Oasis!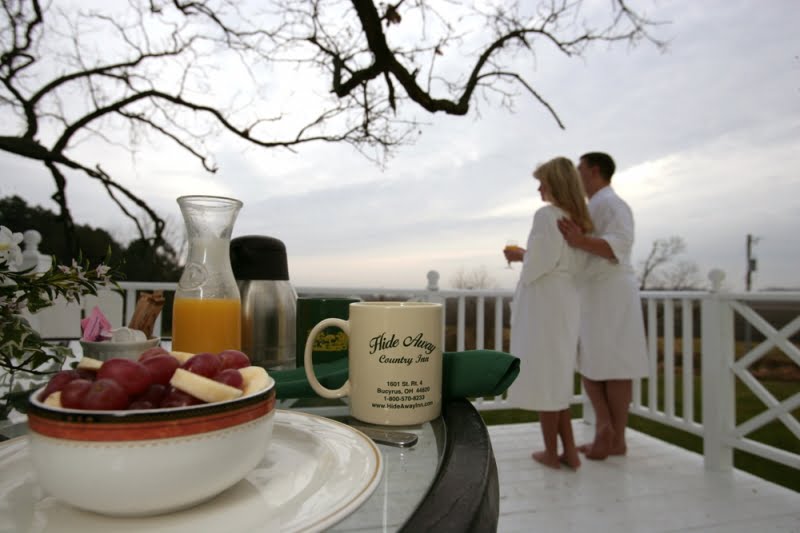 Summer is made for relaxing and enjoying life's simple pleasures while wearing your favorite pair of shorts or summer dress. At HideAway Country Inn, you get to experience serenity found nowhere else. Leave your worries behind and let us pamper you like royalty!
Why don't you stay in our Napoleon Loft Suite, for example? This elegant room's stately decor and atmosphere take you to 19th-century France. Picture elegant, Victorian furniture, French-style antiques, and amazing amenities like a whirlpool tub with cherry columns! It's the perfect oasis for couples looking to rekindle the romance. Snuggle up by the gas fireplace at night with a glass of wine in hand, and wake up to the wonderful smell of freshly brewed coffee in the morning! Each room comes with a delicious, homemade breakfast served in the main dining room, and we have a feeling you'll love it!
Share This Story, Choose Your Platform!