Here Are 5 Things to Do in Ohio on Memorial Day Weekend
It's never too early to start planning for Memorial Day! Make the most of this holiday and enjoy a stress-free weekend away from all the hustle and bustle. We suggest driving to Ohio's beautiful countryside for a relaxing getaway in Bucyrus. HideAway Inn knows the best things to do in Ohio on Memorial Day, so read on to begin crafting your trip! Don't forget to download our free Vacation Guide for even more vacation recommendations. Our guide features local restaurants, events, museums, shops, outdoor activities, and more!
How to Spend a Fun Memorial Day Weekend in Ohio

Watch a Car Race
Get your fill of adrenaline at the Mid-Ohio Sports Car racing event! Memorial Day race weekend gives you the chance to experience a thrilling car race that will get your blood pumping. Gates open at 6 p.m.

Go Birding
Are you a nature lover? Remember to pack your binoculars before heading to HideAway, because we have a ton of opportunities for birding around the inn! The Killdeer Plains Wildlife Area is comprised of more than 9,230 acres and is a great place to marvel at Ohio's bird species. Be on the lookout for hawks and owls!  
Play Golf
Vacations are perfect for enjoying hobbies you don't normally have time for. Indeed, a golf session is hard to swing when your schedule is full! Luckily, you'll have plenty of free time throughout the weekend. Discover some of Bucyrus best golf courses and practice your game on beautiful Ohio greens.

Enjoy a Bike Ride in the Countryside
Memorial Day Weekend is an excellent opportunity to leave stress behind and indulge in life's simple pleasures. Soak in the gorgeous scenery around Bucyrus and go on a bike ride with your loved ones! Central Ohio has an excellent bike trail system, which includes the beloved Marion Tallgrass Trail. Pack a picnic and have your lunch amongst nature!
Relax
Who says you have to run around and be active on Memorial Day? We think you deserve some pampering, and that's why we have an in-house spa at HideAway Country Inn. Book yourself a massage, facial, or a manicure/pedicure and catch up on some much deserved "me-time"!



Spend Memorial Day Weekend at HideAway Country Inn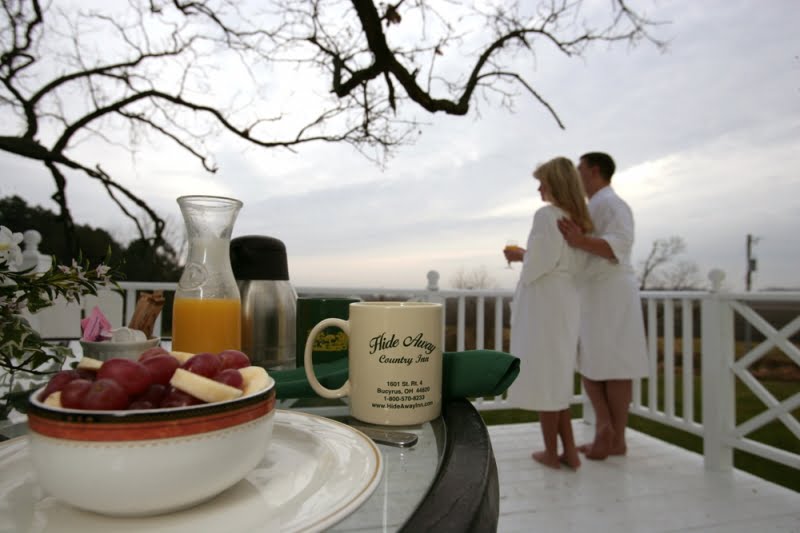 Treat yourself this Memorial Day! Our charming inn is the ideal location for a dreamy vacation. We offer scenic lodging options that welcome you for a relaxing getaway. When you're not out and about in beautiful Bucyrus, enjoy our top-notch amenities and accommodations.
Take a look at our Eagles Nest Luxury Suite, for example. You can unwind from your fast-paced lifestyle in this spacious suite! After a fun day exploring the surrounding area, take a hot bath in the whirlpool tub, slip into a comfortable robe, and lounge in the living area by the fireplace. The bed is in this room is so comfortable that you'll wake up feeling as refreshed as ever. Plus, you'll love starting the day with our delicious, homemade breakfast!
Book Your Memorial Day Experience Now
Share This Story, Choose Your Platform!