How to Plan the Best Road Trip from Michigan
Are you looking for an escape from the city? How about a spur-of-the-moment vacation to Central Ohio? There's nothing like following your instinct and getting away for the weekend. Leave the hustle and bustle of the city behind and take a road trip from Michigan to the lovely town of Bucyrus! Enjoy fun activities along the way and get ready to reconnect with life's simple pleasures. Read on to discover our three favorite stops and plan your visit to HideAway Country Inn today! We even created a free Vacation Guide to share our top recommendations for local restaurants, events, museums, outdoor activities, and more.


3 Stops You Need to Make On Your Road Trip From Michigan
Prepare For the Trip
The drive from Michigan to Central Ohio isn't a long one. If you're starting in Detroit, for example, it only takes about three and a half hours. (This is the perfect amount of time to enjoy the ride without getting weary!) Before you hop in your car and turn the key in the ignition, here are a few things you need to think about.
Make a list of all the items you need for the weekend and only pack those. You don't have to overpack for a short getaway!

Store some water bottles and snacks in your car. It will save you a trip to the gas station.

Make a playlist! A road trip is more fun with great music playing in the background.

Use a map or make sure your itinerary is loaded on your phone before your departure. You never know when you might lose service along the way.

Lunch in Toledo
The first stop on your way to Central Ohio should be Toledo, OH. Hop on I-75 and drive south for about an hour. This fun city is a great place to grab lunch on the way. Taste some of the best food in town at Real Seafood Company Toledo while enjoying gorgeous river views. Before you get back on the road, treat yourself to a trip to the zoo and marvel at all of the incredible animals.
History in Upper Sandusky
The next stop on the map is Upper Sandusky. It's an hour and a half from Toledo, making this the longer portion of the road trip. Once you get to Upper Sandusky, head to the Indian Mill Museum and learn about the fascinating history of the region! You can stretch your legs and enjoy a variety of fun activities. Plus, you'll love all the exhibits featured in this historic landmark, which was built in 1861.
Dinner in Bucyrus
Upper Sandusky is only 25 minutes away from Bucyrus! When you get here, you'll know that you've reached one of the most relaxing destinations in Central Ohio. You'll probably be hungry, and lucky for you, our charming inn has one of the best restaurants in town. Enjoy an elegant evening at the 1938 Restaurant and Pub and get a good night's rest in one of our luxury suites.
Stay in the Best B&B in Central Ohio!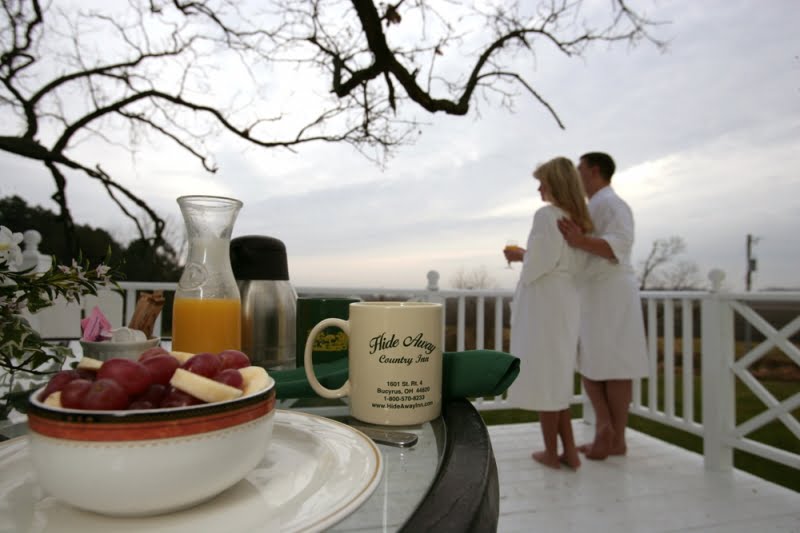 Your road trip adventure concludes with a top-notch place to stay. HideAway Country Inn is located Bucyrus and offers elegant amenities and accommodations in the peaceful Ohio countryside. It's the perfect place to forget your worries!
Treat yourself to a stay in our spacious Eagles Nest Luxury Suite. You'll love the first-floor living area where you can open a bottle of wine and relax by the fireplace. At night, unwind in the whirlpool tub and let the bubbles melt away your stress. You'll wake up the next morning feeling refreshed! Did we mention that a delicious, homemade breakfast is served every morning? It's so good, you'll wish it were morning all day long.
Share This Story, Choose Your Platform!