Here Are the Top 3 Restaurants in Bucyrus
At HideAway Country Inn, we know that food is an important part of any vacation. In this blog, we've gathered a few of our favorite restaurants in Bucyrus to help you discover your options. You can either stay in our elegant B&B and dine at our on-site restaurant (which is one of the best in town), or venture out and explore other spots. Read on, take notes, and try not to let your stomach growl!
Discover all that Bucyrus has to offer in our exclusive, free Vacation Guide. Visiting a new place can be daunting when you don't know where to look. That's why we created this guide! In it, you'll find a variety of local recommendations, including events, shops, museums, outdoor activities, and of course, more restaurants. 
3 Restaurants in Bucyrus to Get Your Appetite Going
Old 30 BBQ
If you're craving some BBQ while staying in Bucyrus, head over to Old 30 BBQ! They offer a laid-back atmosphere and more than 20 craft beers on tap. Their BBQ is homemade and surpasses expectations in terms of flavor and quality. In addition to that, Old 30 BBQ offers delicious sandwiches, salads, baked subs, starters, flatbreads, and burgers. 
Carle's Bratwurst
Dive into an authentic German experience at Carle's Bratwurst. This restaurant has been a local favorite since 1929 and is still family-owned to this day. Their bratwurst is an absolute must-try! Carle's features a large deli counter and a butcher, so there are plenty more meats and cheeses to try. You can either dine-in or take your food to-go! Some of the most popular "hot" items include pork chops with apple stuffing, scalloped turkey with potatoes, and BBQ ribs. 
1938 Restaurant & Pub
As enticing as these restaurants sound, we really recommend staying in and dining at our on-site eatery, 1938 Restaurant & Pub. Not only is it one of the best restaurants in town, but it's also the most convenient. Think about it—you can explore Bucyrus's surroundings all day, relax in your room for an hour or two, then walk to the restaurant! No need to worry about driving — it's right by your room! Have a delicious, local beer at the pub and make your way to your table where you'll enjoy flavorful entrees and appetizers. Some of our favorite entrees include filet mignon, baked salmon, and chicken piccata.
Did you know that you can also book our wine cellar for a private dinner for two? Surprise your significant other with the ultimate romantic date! We'll set up candles around you and play soft music as you taste our delicious, high-end dishes. Choose between a five- or seven-course dinner (lasting two hours) and rekindle your romance in style.
Dine and Stay at HideAway Country Inn!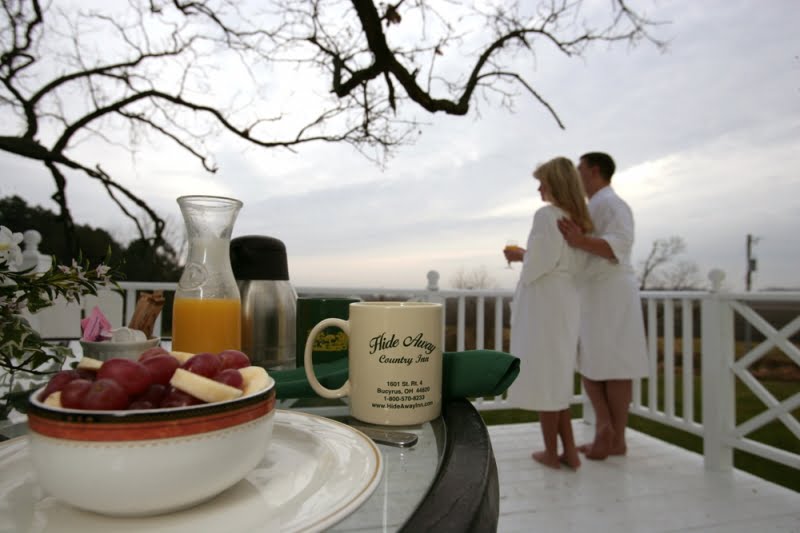 We highly recommend taking advantage of our on-site restaurant during your stay. What's even better than our top-notch dining experience is the variety of accommodations we offer. Spend a relaxing weekend or midweek stay in one of them and let us pamper you like royalty. Each of these rooms and suites feature cozy amenities like plush mattresses, whirlpool tubs, gas fireplaces, and elegant decor. Did you know that your room also comes with complimentary breakfast every morning? It's bound to be your favorite part of the day.
Share This Story, Choose Your Platform!