How to Enjoy One of the Best Driving Vacations from Cleveland
Located an easy one hour and 45-minute drive from Cleveland, Ohio, our charming Bucyrus Inn is the perfect place for a romantic weekend getaway. At the HideAway Country Inn, you'll have everything you need for a relaxing, indulgent stay. To make your planning easy, we've created the ultimate itinerary for a trip to HideAway Country Inn – one of the best driving vacations from Cleveland!
While looking into driving vacations from Cleveland, you'll surely want to know the best activities and attractions in the area. Access our free Vacation Guide to discover the top restaurants, shopping, outdoor activities, and sightseeing in Central Ohio!
How to Experience One of the Best Driving Vacations from Cleveland
Check into the HideAway Country Inn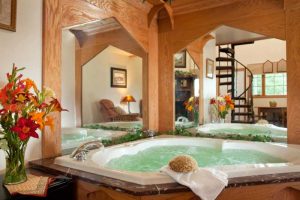 Your vacation begins the minute you step foot into the HideAway Country Inn. Each of our luxurious accommodations is fully equipped with a wide array of amenities including lush linens, cozy furnishings, ensuite private bathrooms, a full breakfast for two, and plenty of thoughtful touches.
Choose to stay in the elegant Country Oak Loft Suite which features a Jacuzzi tub for two or the Tree House Luxury Suite which offers three spacious rooms and a private deck. You can't go wrong with any of our charming suites at the HideAway Country Inn!
Enjoy an All-Inclusive Resort-Like Experience
Once you arrive at our Inn, you will never want to leave. Fortunately, we have everything you could possibly need available onsite! From our full spa where you can receive massages, facials, manicures, and pedicures to our fabulous 1938 Restaurant & Pub, there's something for every kind of visitor at the HideAway Country Inn. We also offer a few wonderful monthly events, such as our popular Crafts & Cocktails. Be sure to check our events calendar to find out what to include on your trip!
Or Hit the Town!
While you certainly don't have to leave your cozy retreat, if you do, you'll find an abundance of fabulous places to explore! Spend a romantic afternoon exploring the best vineyards in Ohio or soaking up the sun at the top four state parks in Northeast Ohio. Whatever adventures your day brings, we welcome you back to the HideAway Inn for a relaxing night's stay.
Make Your Stay Extra Special
Whether it's an anniversary or just a last-minute getaway, being on vacation is reason enough to celebrate! To make your stay extra indulgent, take a look at our add-ons and enhancements you can enjoy during your stay. From craft beer tastings to chocolate covered strawberries, the little touches are a great way to turn your weekend trip into a lasting memory. This is the ultimate way to experience the best driving vacation from Cleveland!
In addition, we have several packages that provide everything you need for the occasion. If you're enjoying a trip with your special someone, you might be interested in our Romance Packages. If you're looking for a totally restorative vacation, take a look at our Relax & Unwind Packages. You can also contact us, and we'll help create the perfect package for you!
Start planning your one-tank trip from Cleveland to the HideAway Country Inn today! We look forward to hosting you.
Share This Story, Choose Your Platform!