Where to Find the Best Amish Country, Ohio, Attractions
Amish Country, Ohio, is one of the most beautiful places in our region. Spread out amongst small towns within driving distance from our B&B are the best Amish Country, Ohio, attractions to include on your getaway. Whether you're searching for handmade furniture, a gorgeous new quilt, or you just want to see the Amish way of life, a trip to Amish Country will surely be delightful. Plus, it's the perfect way to see, taste, and experience a culture that is much different from our own.
Looking for more things to do in the area in addition to the best Amish Country, Ohio, attractions? Our free Vacation Guide is the best way to find what you need! It's easily accessed and full of ideas on what to do on your getaway. Inside our Guide, you'll find delicious restaurants, places to shop, exciting activities, and great tips for making your time in Central Ohio one you won't soon forget.
Here's How to Find the Best Amish Country, Ohio, Attractions
The Amish are known for their simple, beautiful way of life. Stepping into Amish Country is like stepping back in time. The scenery is absolutely stunning and you'll instantly feel transported to a simpler time as you watch the horse-and-buggies passing by you. If you're unfamiliar with the Amish lifestyle, be sure to begin your tour of Amish Country by visiting the Amish and Mennonite Heritage Center. Below are more of the best Amish Country, Ohio, attractions. 
1. Amish Country shopping is one of a kind.
In the retail world, "amish" is synonymous with "well made". Whether you have something specific in mind or just want to browse, we guarantee that you'll find something you love in Amish Country. Be sure to stop by The Peddler, formerly called the Amish Country Peddler, for great deals on an array of home goods. Many people come to Amish Country to find the best in furniture and, with over thirty different shops specializing or selling furniture in all different styles, there's bound to be the perfect piece for you. As you browse, keep your eye out for beautiful quilts, antiques, gifts, and other treasures.
2. Take a drive through Amish Country.
There's nothing quite as lovely as a long drive through Amish country. Watch the horses pull their buggies or flick their tails softly in the breeze as they graze in a pristine meadow. The men in their tall hats and women in their bonnets wandering the streets will make you feel like you've stepped into a different world. See a unique way of living quietly and working with your hands. It's a beautiful thing to experience!
3. Don't leave hungry.
Along with being fantastic craftsmen, the Amish are also known for their food! Perhaps you've been given a loaf of Amish sweet bread at some point in your life. Enjoy the bounty of bread, jams, pies, fried chicken, and delicious chocolates. The Amish recipes have been handed down from generation to generation, showcasing their Swiss heritage. The cheese and ice cream is hands-down amazing. Be sure to get a few jars of jam for your friends (and your own pantry) back home!
Retreat Back to Our Idyllic Inn after your Tour of Amish Country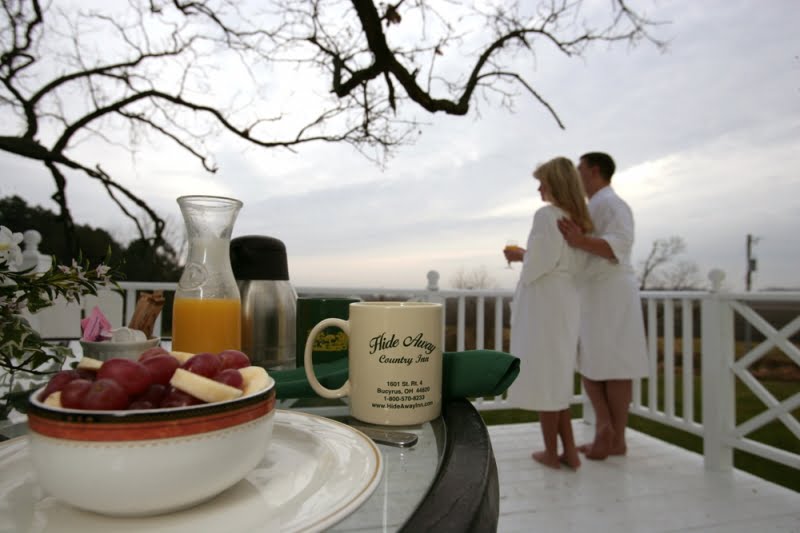 At the HideAway Country Inn, we put a priority on your ultimate relaxation and comfort. Retreat back to our gorgeous Inn and experience the best amenities that elevate your stay from good to unforgettable. Wake up in your spacious room and then join us for a delicious, homemade breakfast every morning of your stay with us. Check our availability and then book a room with us today to begin your trip to see the best of what Ohio has to offer!
Share This Story, Choose Your Platform!