Private Steam Room in a Premier Luxury Suite 
 – Ohio Boutique Inn
Private En-Suite Steam Room for Two is Just the Beginning
The Cherry Suite is the ultimate luxury suite. It's has been characterized The Place for a Romantic Getaway  within 2 hours of Your Home in Pittsburgh, Cleveland, Detroit and Toledo.  Just one hour North of Columbus, Ohio. If you're looking for the pinnacle in privacy, you'll find it here along with features such as a wood-burning fireplace, Copper tub for two, king-size brass bed and a spacious sitting area. Your SMART 62 inch HDTV.
All the finest amenities are included – Thick Thirsty MicroFiber Robes, Soft Egyptian Cotton Towels, Comphy Sheets, in addition, a Down Comforter. Soft firelight illuminates the 3/4" original cherry inlay wood that adorns the luxury suite. Enjoy a served 3-Course Breakfast  is included for FREE,  and a late noon check-out time. The prelit Wood Burning fireplace is  ready upon your arrival. A large basket of wood is provided  to keep the fire ablaze.  Due to the nature wood burning Fireplace, therefore, this room it's not recommended for people with severe allergies.  Easy to Find, Hard to Leave this  boutique hotel in Mid-Ohio.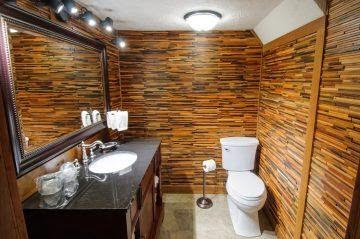 Add-Ons and Enhancements
When you stay at HideAway, there are dozens of ways to customize your experience. Browse our Add-Ons and Enhancements for a few ideas. Or, contact us for help planning a unique trip just for you!
Additional Features:
Steam Room with Dual Showers
Two-person Copper Soaking tub

High Quality, Comphy brand sheets

Lush robes (Now Available for Purchase!)

HideAway Heavenly Stay™ Amenities Package

Wood burning fireplace

King Size Bed

Refrigerator

SMART TV

Sirius XM Music

Popcorn or s'mores to make in the fireplace

Private Bath

Hair dryer

Spa-quality shower and bath products

3-course full breakfast